Follow the basic rule

in trail park
Pay attention to the information boards at the trailheads of Trail Park Klínovec and choose a trail suitable to your skills, physical ability and equipment.
Riders use the trails at their own risk.
Obey the equipment requirements for each trail. Always wear a helmet and other protective gear. Always carry the trail map and a mobile phone.
Always stay in control.
Don't ride wrong way.
When overtaking, use the word STOPA. On hearing the signal STOPA, give way to the faster rider by slowing down on the upper edge of the trail.
Do not stop where you obstruct a trail or cannot be seen from trail above.
Before you enter a trail, look uphill and yield to other riders coming from up the hill.
Obey all trail closures and respect the signage and warnings on the trails.
Stay on marked trails. Do not ride alternative lines or trails. Don't skid.
Riding the trails under the influence of alcohol and drugs is prohibited.
Be considerate of other users of the forest and nature.
Breach of code may result in revocation of chair lift pass.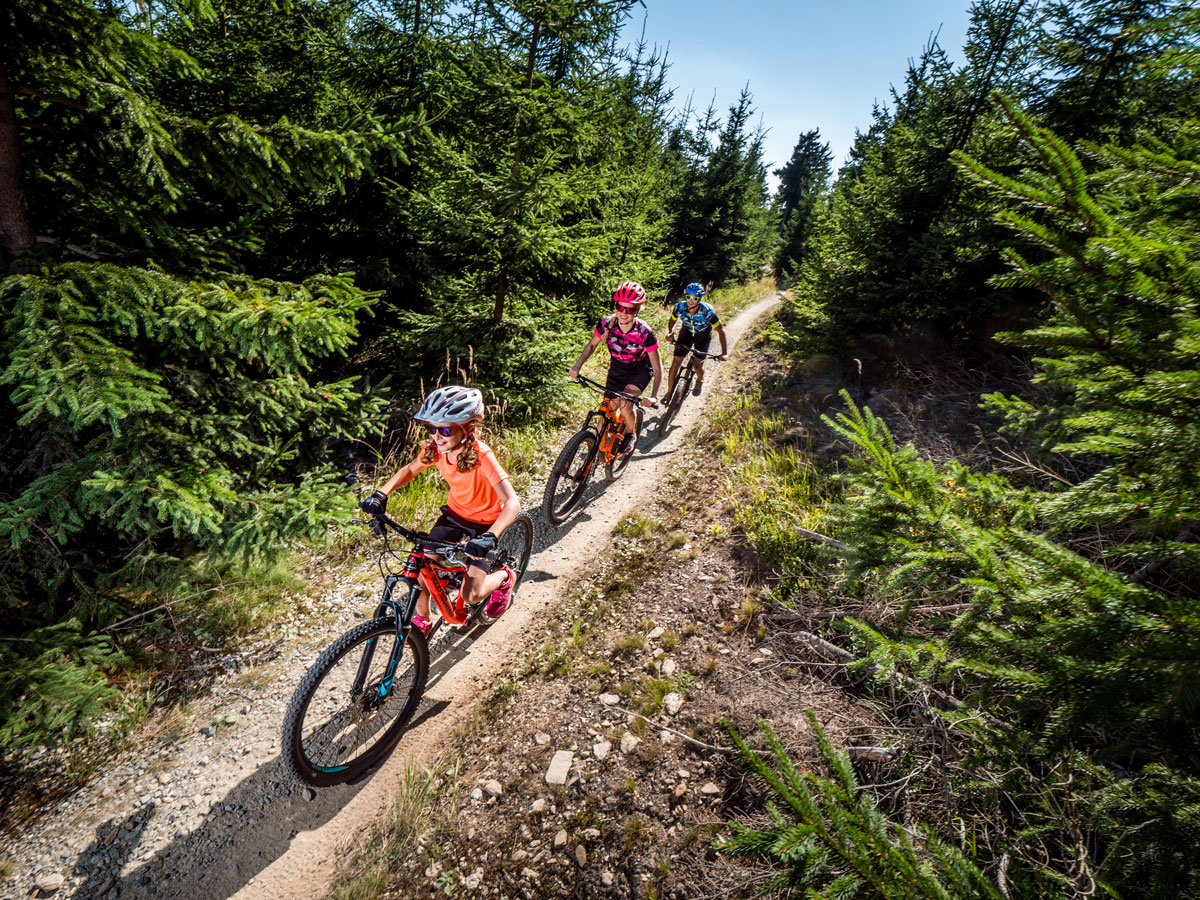 What to do
in case of injury
When riding on the trails an accident may happen and one might get injured. In such cases it is necessary to call Mountain Rescue Service who will transport the injured from the forest to the place where professional medicalassistance may be provided. The telephone number of Mountain Rescue Service is + 420 1210. In a case of lossof signal reception call emergency number 112.
Always carry a fully charged mobile phone with you in case you need to call Mountain Rescue Service or Emergency for help.
For easier determination of the position of the injured on the trail we placed 120 cm high posts along the trails. Each post has a label with unique number (e.g. on the Azur trail 111 – 199), which must be reported to the MountainRescue Service dispatcher. First digit denotes the current trail, second digit represents trail section and the last digit refers to the position within the trail section. The posts are located 250 – 350 meters from each other. MountainRescue Service is thus able to identify the location of the injured very accurately.
Do not be indifferent to the injured and also help to call Mountain Rescue Service. Get to the closest post and call Mountain Rescue Service from there. If you have just recently passed a post, return to it walking very carefully and lead your bike or off-road scooter on your side – you will be moving the wrong way and a rider coming from up thehill might not see you and another accident may happen.