Recommended equipment
on the trails
Before you set off on your adventure check that you have all necessary equipment. Do not forget about the following:
Cycling helmet and shoes suitable for terrain riding .
Water bag or a bottle on your bike. We recommend a water bag so that you can hold on to your handlebars even when drinking.
Snack and drinks. Most trails are located in the forest. You can buy refreshments either at the start of the trail on top of Klínovec or in the finish of the trails. On top of Klínovec near the entry to the chairlift you can find the restaurant U staré lanovky, near the bottom station of Prima Express chairlift you can use the offer of Jägermeister tent with refreshments.
Spare inner tube or repair kit, air pump and basic tools. Often people forget those parts of the bikes which must be taken off before disassembling the bike before transport in the car.
Suitable clothes that you can layer. You will be moving on the highest peak of the Krušné Mountains. Weather is more than pleasant for cycling in summer but it can change very quickly. Climate and weather conditions can change significantly. Therefore it is suitable to take with you another layer, spare dry clothes and socks and a waterproof and windproof jacket.
Map of the trails. Even though the trails are well marked, the map will help you in orientation in the terrain and you can better plan your way on the trails if you want to combine these. The maps are available free of charge at the cashdesks of Trail Park Klínovec and in the refreshment places. You can also print your own map – you will find it on this website.
Mobile phone. In case of an accident you will be able to call the Mountain Rescue Service. You will get your precise location from the code number on the marking posts that are located along the trails.
It is necessary to use a bike and other equipment only in excellent technical condition for riding on the trails in Trail Park Klínovec. For easy trails it is recommended to use a mountain bike with front suspension. You can get detailed information about equipment recommended for all types of trails on the information boards at the start of Trail Park Klínovec. Do not forget to check your bike and other equipment right before your ride.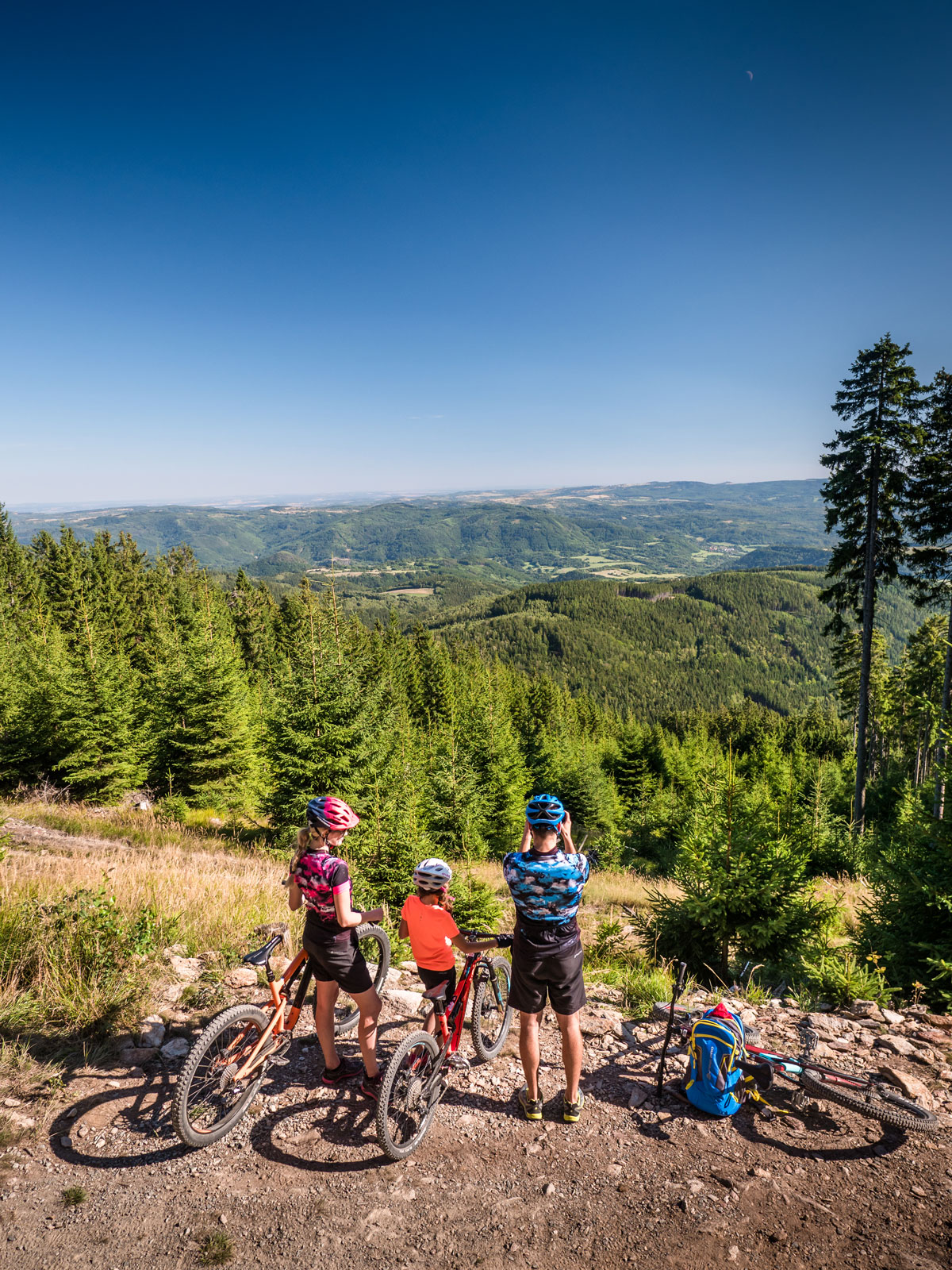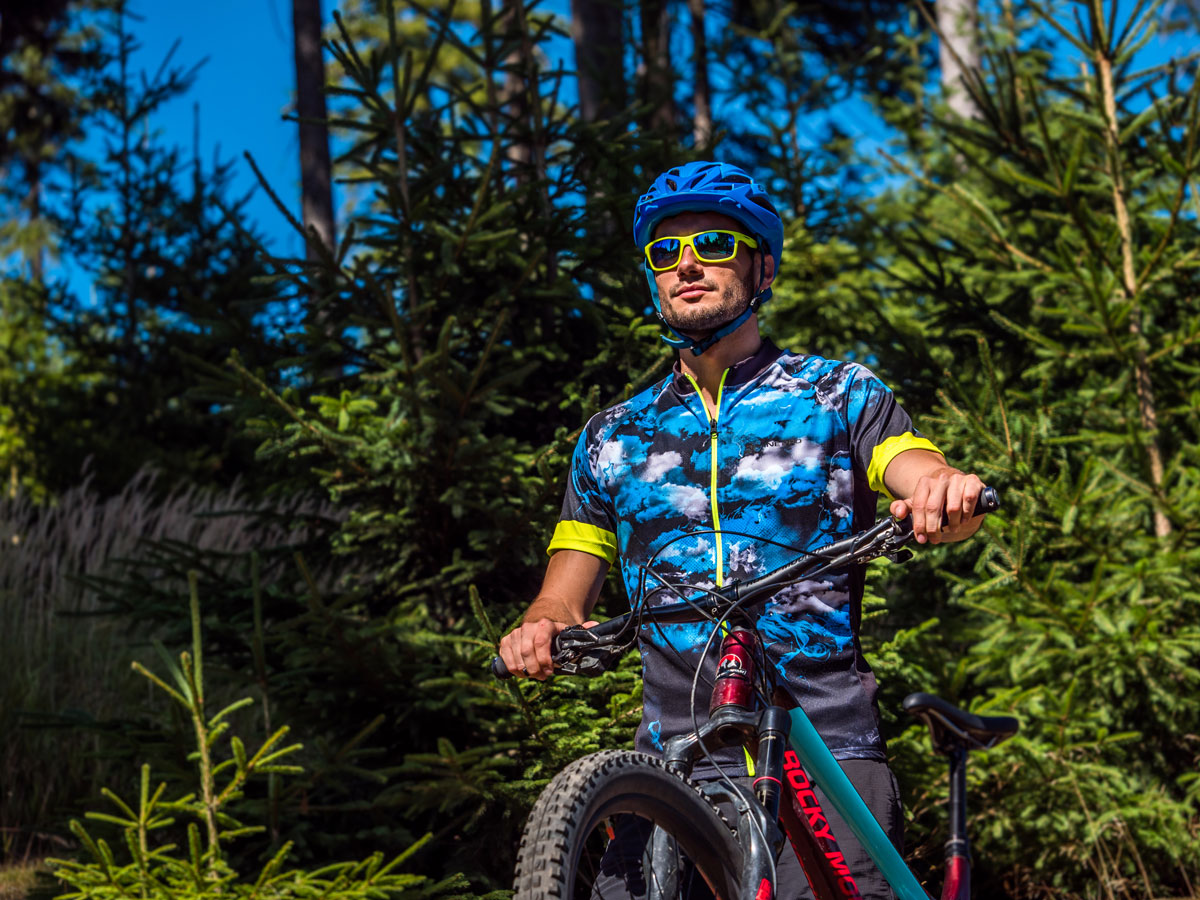 For riding on the trails in Trail Park Klínovec it is necessary to use a bike and other equipment in excellent technical condition.
Wearing a cycling helmet is obligatory. Make sure your helmet is in excellent condition and that it is set in the right way. It is recommended to use other protection equipment, such as gloves, spine protectors, elbow and knee protectors. For riding on difficult and very difficult trails it is obligatory to wear a full-face helmet with chin-guard, a spine protector, knee and elbow protectors and gloves. Suitable equipment includes glasses,gloves, downhill trousers, chest protector, cervical spine protector, clavicule, shoulder and shin protector.
Check your bike frame condition for possible cracks or other damage.
Check your brakes. It is obligatory to have two functional brakes for riding on the trails
Check the attachment of your front and back wheel.
Check the steearing system of the bike. The headset and the handlebar stem must not be loose. The handlebars and handles must be fastened tight and without the possibility of rotation.
Check your front and back wheel condition. Use only tires whose tread is not worn off without any cracks and scrapes on the sides of the tire. The rims must not be damaged and make sure the spokes are not loose or damaged.
The bike saddle must be attached properly.